The Blog
Posted by Jacob Mundy on 20 May 2021
La primera opción que tiene Biden es dar marcha atrás y volver al "statu quo" antes de Trump, es decir, no reconocer la soberanía marroquí sobre los territorios que ocupa desde 1975 en la antigua colonia española del Sáhara Occidental, considerada por la ONU un territorio no autónomo en proceso de autodeterminación. Otra opción sería mantener el reconocimiento a la soberanía marroquí, pero condicionarlo a progresos diplomáticos para resolver el conflicto, explicó a Efe Jacob Mundy, profesor de la Universidad Colgate en el estado de Nueva York. El tercer escenario sería mantener la proclamación presidencial de Trump, pero no tomar ninguna decisión que la "haga realidad". Por ejemplo, Biden podría negarse a destinar fondos a la apertura de un consulado estadounidense en el Sáhara Occidental, tal y como había anunciado su antecesor. "Lo cierto es que no sé qué dirección tomará la Administración", reconoce Mundy.
Tags:
Posted by Jacob Mundy on 14 April 2016
As Jacob Mundy, an assistant professor at Colgate University and an expert on the conflict pointed out, Morocco has positioned itself as a key ally of Saudi Arabia and the West in North Africa, sharing intelligence with the United States and even playing host to at least one of the CIA's controversial black sites. This brings the US closely into line with France, already staunchly on Morocco's in the dispute. "Anytime Morocco is feeling the pressure on Western Sahara, they probably find ways of making themselves very useful to the United States," Mundy explained.
Posted by Jacob Mundy on 14 April 2016
Inscrit depuis 1966 sur la liste des territoires non autonomes — et donc éligible à l'application de la résolution 1514 de l'Assemblée générale de l'ONU portant déclaration sur l'octroi de l'indépendance aux pays et peuples coloniaux —, le Sahara occidental est la dernière colonie en Afrique, occupé depuis 1975 par le Maroc qui est soutenu par la France. Jacob Mundy, enseignant à l'université Colgate de New York, explique les raisons des récentes attaques dirigées par le Maroc contre le secrétaire général de l'ONU.
Posted by Jacob Mundy on 18 March 2016
For the secretary-general, these tensions appear to have helped fuel continued frustration towards Morocco and the visit may have been an attempt to show Western Sahara that the international body has not forgotten about the issue, according to Jacob Mundy, a political science professor and North Africa expert at Colgate University. As Mundy noted, the visit was unusual in the fact that Ban only met with one side. "It's kind of unprecedented, just on its face, only going to meet with one side of the conflict," he said. "The secretariat has never visibly shown this much frustration before and if it was… it never would have made its frustration public."
Posted by Jacob Mundy on 16 November 2015
Au grand dam des populations sahraouies représentées par le Front Polisario dès 1973, le Sahara occidental, ancienne colonie espagnole, est colonisé en 1975 par le Maroc. Hassan II y envoie, le 6 novembre, des Marocains pour l'envahir, avant de lancer une offensive armée contre les Sahraouis. L'attaque marocaine est même appuyée par des bombardements massifs. Le peuple sahraoui lutte depuis plus de 40 ans pour son droit à l'autodétermination. Dans les territoires sahraouis occupés par le Maroc, la vie des Sahraouis est marquée par la répression et le harcèlement constants. Le Sahara occidental est aujourd'hui la dernière colonie d'Afrique. Spécialiste des conflits au Maghreb, Jacob Mundy de l'université Colgate (New York) explique le stratagème mis en place par le roi Hassan II pour accaparer ce territoire.
Posted by Jacob Mundy on 29 June 2015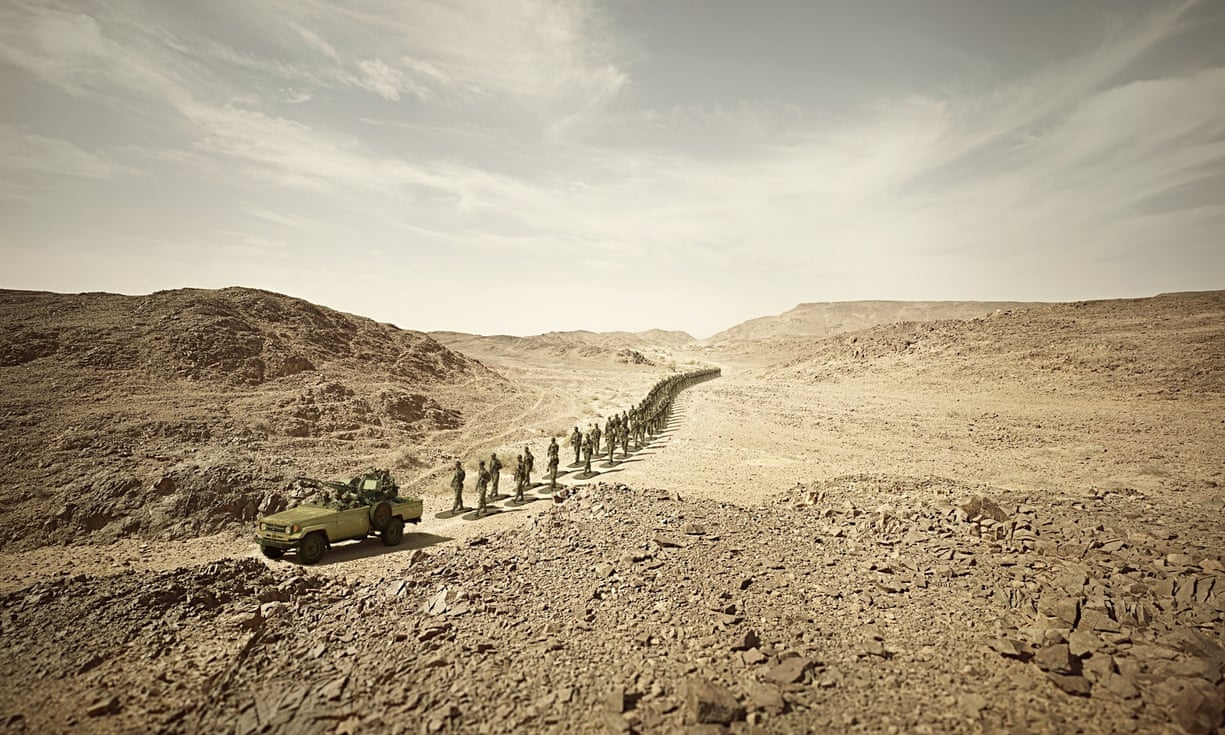 The result is a series of images that show the absurdity of war, but also the plight of the individual soldier locked into a conflict that must seem endless. "It is difficult to look at Simon Brann Thorpe's Toy Soldiers," writes Mundy, "and not dwell on the powerful metaphor these photographs literally play with. Fighters in the Western Saharan liberation movement have become playthings. But whose toys are they, and what is the game being played?" These are the kinds of questions that echo through this odd, and oddly powerful, conceptual meditation on war – and war photography.
Posted by Jacob Mundy on 27 May 2015
Dudouet has found authors to write on eight prominent contemporary cases in which movements have switched from armed to nonviolent methods: Western Sahara, West Papua, Palestine, South Africa, Chiapas, Colombia, Egypt and Nepal. Few of these stories are known to the wider public. Perhaps only the struggles in Palestine and South Africa are familiar through the mass media, and even in these cases the transition from armed to nonviolent methods is little known. So here is a valuable compendium of insights about a crucially important process that has escaped the notice of scholars and members of the public alike.
For example, the Office Cherifien des Phosphates (OCP), a Moroccan government-owned mining company that controls one of the world's largest phosphate mines in the occupied Western Sahara, is the primary donor to the Clinton Global Initiative conference last week in Marrakech. This and other support provided to the Clinton Foundation by OCP — now totaling as much as $5 million — has raised some eyebrows, given Hillary Clinton's efforts as secretary of state to push the Obama administration to recognize Morocco's illegal annexation of the territory through a dubious "autonomy" plan promoted by King Mohammed VI that would deny the people of Western Sahara the option of independence as international law requires.
Posted by Jacob Mundy on 6 April 2015
The Ideal Refugees claims to make gender visible in the politics of Sahrawi refugee survival, but it does so at the expense of making the geopolitical conditions of the Sahrawis' dispossession, exile, and brute refugeeness invisible. In The Ideal Refugees, the invisibility of the larger forces acting upon the Sahrawi refugees is evidenced in the fact that France and the United States, the two states that have done the most to determine the lives of Sahrawis through their support of Morocco on the UN Security Council, are mentioned so rarely as to be omitted from the book's index. The connections between the conflict's "high" politics of international diplomacy and the "low" politics of refugee survival are plainly obvious to most dedicated observers of the conflict. But all we get in The Ideal Refugees is the low politics of camp life vis-à-vis the entrenched rule of Polisario and the naiveté of solidarity activists.
Posted by Jacob Mundy on 2 January 2015
Posted by Jacob Mundy on 21 October 2014
Beware academic volumes that bear this disclaimer: "The views expressed are those of the authors alone." Perspectives on Western Sahara, edited by Anouar Boukhars and Jacques Roussellier, contains several chapters in which this caveat is made. And for good reason: Perspectives on Western Sahara is primarily a political text, one backed by well-researched, if sometimes problematic, accounts of the conflict's local, regional, and global dynamics. Most of the contributors have backgrounds in government, consulting, and think tanks; the others have formal academic positions. Several are well known for their defense of Morocco's position on Western Sahara; others seem to have been recruited or shanghaied into the cause with little to no research or publication background on the issue. One of the chapters, an analysis of United States foreign policy towards the conflict, is even authored by two former US Foreign Service Officers who now work as lobbyists for Morocco, Edward Gabriel and Robert Holley. Boukhars and Roussellier's collection also serves as a pro-Moroccan response to Western Sahara: War, Nationalism, and Conflict Irresolution, which this reviewer coauthored with Stephen Zunes in 2010. …read more
Citation: Jacob Mundy, "Perspectives on Western Sahara: Myths, Nationalisms, and Geopolitics ed. by Anouar Boukhars and Jacques Roussellier (review)," The Middle East Journal, 68(4), Autumn 2014, pp. 653-654 | 10.1353/mej.2014.0094
Posted by Jacob Mundy on 29 September 2014
Middle East Eye and Middle East Economic Survey have examined the coming oil crisis in Western Sahara.
Posted by Jacob Mundy on 16 September 2014
The Western Sahara conflict is fast approaching its 40th anniversary with no end in sight. A web of geopolitical interests keeps the conflict in a permanent state of limbo. At the heart of this web is the U.N. Security Council, which has managed the conflict since the late 1980s. The council has been historically reticent to take dramatic action to resolve the dispute and remains so today. Though there has been "peace" in Western Sahara since 1991 when a cease-fire came into effect, all efforts to reconcile Morocco's claim of sovereignty against the local population's right to self-determination have failed. The status quo thus seems indefinitely sustainable. Unless the conflict takes a sudden turn for the worse, it is unlikely that the international community will make the tough choices necessary to achieve a lasting solution. Therein lies the paradox of the Western Sahara peace process: The peace process now exists to contain the conflict, but only a crisis will save Western Sahara.
Posted by Jacob Mundy on 8 September 2014
A chapter by Stephen Zunes and Jacob Mundy from Civil Resistance and Conflict Transformation: Transitions from Armed to Nonviolent Struggle, edited by Véronique Dudouet. Routledge Studies in Peace and Conflict Resolution, 2014.
This book investigates the decision-making process, rationale and determining factors which underlie the strategic shifts of armed movements from violent to nonviolent resistance. The revival of global interest in the phenomenon of nonviolent struggle since the 2011 Arab Spring offers a welcome opportunity to revisit the potential of unarmed resistance as an alternative pathway out of armed conflicts, in cases where neither military (or counter-insurgency) nor negotiated solutions have succeeded. This volume brings together academics from various disciplinary traditions and offers a wide range of case studies – including South Africa, Palestine and Egypt – through which to view the changes from violence to nonviolence within self-determination, revolutionary or pro-democracy struggles. While current historiography focuses on armed conflicts and their termination through military means or negotiated settlements, this book is a first attempt to investigate the nature and the drivers of transitions from armed strategies to unarmed methods of contentious collective action on the part of non-state conflict actors. The text concentrates in particular on the internal and relational factors which underpin the decision-making process, from a change of leadership and a pragmatic re-evaluation of the goals and means of insurgency in the light of evolving inter-party power dynamics, to the search for new local or international allies and the cross-border emulation or diffusion of new repertoires of action. This book will be of interest to students of security studies, peace and conflict studies, political sociology and IR in general.
Posted by Jacob Mundy on 20 July 2014
Hugh Roberts (2014). Review of 'Western Sahara: War, Nationalism and Conflict Irresolution' International Journal of Middle East Studies, 46, pp 418-420. doi:10.1017/S0020743814000324.
Posted by Jacob Mundy on 20 March 2014
An essay by Jacob Mundy from the new book Multiculturalism and Minority Rights in the Arab World (Oxford University Press 2014), edited by Will Kymlicka and Eva Pföstl.
Since the Arab Spring, Arab states have become the new front line in the struggle for democratization and for open societies. As the experience of other regions has shown, one of the most significant challenges facing democratization relates to minority rights. This book explores how minority claims are framed and debated in the region, and in particular, how political actors draw upon, re-interpret, or resist both the new global discourses of minority rights and more local traditions and practices of co-existence. The contributors examine a range of pre-colonial, colonial, and post-colonial factors that shape contemporary minority politics in the Arab world, and that encumber the reception of international norms of multiculturalism. These factors include the contested legacies of Islamic doctrines of the `dhimmi' and the Ottoman millet system, colonial-era divide and rule strategies, and post-colonial Arab nation-building. While these legacies complicate struggles for minority rights, they do not entail an `Arab exceptionalism' to global trends to multiculturalism. This volume explores a number of openings for new more pluralistic conceptions of nationhood and citizenship, and suggests that minority politics at its best can serve as a vehicle for a more general transformative politics, supporting a broader culture of democracy and human rights, and challenging older authoritarian, clientalistic, or patriarchal political tendencies. The chapters include both broad theoretical and historical perspectives as well as more focused case studies (including Western Sahara/Morocco, Algeria, Israel/Palestine; Sudan; United Arab Emirates, and Iraq). Readership: Scholars and students of political theory, international relations, political philosophy, international law, human rights, ethnic studies, and Middle East politics.
Posted by Jacob Mundy on 5 November 2013
A man is currently in police custody in Morocco's commercial capital, Casablanca, after tearing down the Algerian flag from its embassy in the city. The man was protesting against comments made on behalf of Algerian President Abdelaziz Bouteflika in relation to Western Sahara. Bouteflika reportedly said that Morocco had committed human rights violations against the people of Moroccan-occupied Western Sahara. Morocco illegally occupied Western Sahara in 1975. It is the largest disputed land mass in the world. RFI spoke to expert Jacob Mundy on Morocco's reaction to withdrawing its ambassador.
Posted by Jacob Mundy on 22 October 2013
With modern communication tools available to the refugees, "there is no mystery anymore about what goes on in the camps, and what goes on in the disputed territory," said Jacob Mundy, an assistant professor at Colgate University and co-author of Western Sahara: War Nationalism & Conflict Irresolution. "The fact that so many people choose to stay in the camps probably speaks more to Morocco's failure to win the hearts and minds of the Sahrawi people."
Posted by Jacob Mundy on 16 July 2013
As dusk enveloped the salmon-pink houses of Laayoune, the brightly coloured robes of women stood out in a mass of protesters in the centre of the capital of Western Sahara chanting for independence from Morocco. While other African colonies threw off occupiers one by one, this desert expanse on the continent's north-western coast remains a disputed territory controlled primarily by next-door Morocco and locked in a nearly 40–year struggle for the right to choose its fate. Unusually for a Muslim society, women play a prominent role in Western Sahara's independence movement.
Posted by Jacob Mundy on 8 July 2013
While other colonies in Africa threw off occupiers one by one, this rocky desert expanse on the continent's northwestern coast remains a disputed territory controlled primarily by next-door Morocco and locked in a nearly 40-year-old forgotten struggle for the right to choose its fate. And in a Muslim-majority region where women are often marginalized from politics, women have taken an unusually prominent role in Western Sahara's independence movement.
Posted by Jacob Mundy on 16 June 2013
Politically, Western Sahara is a unifying issue within Morocco; analysts worry that splitting it off could undermine the monarchy, and threaten a pillar of stability in a volatile region. Polisario's socialist rhetoric and Algerian ties have not won them friends in the West, either. For the West, "the status quo is much more tolerable than the frightening futures that might result from prioritizing a solution over stability," Mundy said.
Morocco has been able to persist in flouting its international legal obligations toward Western Sahara largely because France and the United States have continued to arm Moroccan occupation forces and block the enforcement of resolutions in the UN Security Council demanding that Morocco allow for self-determination or even simply allow human rights monitoring in the occupied country. So now, at least as important as nonviolent resistance by Sahrawis, is the potential of nonviolent action by the citizens of France, the United States, and other countries that enable Morocco to maintain its occupation. Such campaigns played a major role in forcing Australia, Great Britain, and the United States to end their support for Indonesia's occupation of East Timor, finally enabling the former Portuguese colony to become free. The only realistic hope to end the occupation of Western Sahara, resolve the conflict, and save the vitally important post-World War II principles enshrined in the United Nations Charter, which forbid any country from expanding its territory through military force, may be a similar campaign by global civil society.
Posted by Jacob Mundy on 10 June 2013
"Morocco is a very close ally of France and the United States; Paris and Washington don't want to jeopardize their excellent security and economic cooperation with Rabat, which could be the cost of forcing peace in Western Sahara," says Jacob Mundy, assistant professor at Colgate University and author of Western Sahara: War, Nationalism and Conflict Irresolution. "It's not going to be resolved until there is a crisis. Something major has to happen to shake things up."
Posted by Jacob Mundy on 22 May 2013
Le peuple sahraoui a célébré, hier, le 40e anniversaire du déclenchement de sa lutte armée contre l'occupation marocaine, après avoir commémoré, le 10 mai courant, la création du Front Polisario (10 mai 1973). Spécialiste du conflit, Jacob Mundy, actuellement professeur à Colgate University (New York), décrypte pour nous les enjeux de la dernière réunion du Conseil de sécurité de l'ONU consacrée au dossier sahraoui. Celui-ci (le Conseil de sécurité) a, rappelle-t-on, adopté le 25 avril dernier la résolution 2099 dans laquelle il a réitéré son appel à «une solution politique juste et durable acceptée par les deux parties et qui garantit le droit du peuple sahraoui à l'autodétermination».
Posted by Stephen Zunes on 23 October 2012
His support for international law and self-determination was rooted in his taking part in the war on fascism. In his foreword to my most recent book, which analyzes the Moroccan occupation of Western Sahara, he noted how that experience helped teach him that the right of self-determination "is one of the most fundamental rights of all" and that "no government should get away with denying that right by invading, occupying and annexing another national and oppressing its people." He faulted successive administrations of both parties for failing to uphold such fundamental principles of international law.
Posted by Stephen Zunes on 2 August 2012
Earlier this year, Global Post ran an article by Jordan Paul, executive director of the Moroccan American Center for Policy, a registered foreign agent for the Moroccan government, which funds, supervises, and coordinates the group's activities. The article contained a series of demonstrably false claims attempting to rationalize for Morocco's illegal occupation of its southern neighbor, the country of Western Sahara.
The Palestinian solidarity struggle would be considerably strengthened if, instead of calling for divestment specifically from companies supporting the Israeli occupation, the call was for divestment from companies supporting all foreign belligerent occupations. Morocco is a predominantly Arab Muslim country. By including Western Sahara along with Palestine, the movement would avoid the accusation that it is unfairly singling out Israel. After all, it would be targeting all illegal occupations, not just one.
Posted by Jacob Mundy on 10 May 2012
At the end of every April, a small drama plays out in the UN Security Council. This is when the UN Mission for the Referendum in Western Sahara (MINURSO, its French acronym) comes up for its annual renewal. Western Sahara — Africa's last colony according to the United Nations — is largely ignored by the Security Council the other eleven months of the year. The Secretary-General has a Person Envoy working on the case, former US Ambassador Christopher Ross, one of the great Arabophone diplomats of his age. The mandate given to Ambassador Ross, to achieve a mutually acceptable political solution that will afford Western Sahara its long denied right to self-determination, is a farce and everyone knows it.
Posted by Stephen Zunes on 9 February 2012
As the Syrian regime continues to slaughter unarmed civilians, the major powers at the United Nations continue to put their narrow geopolitical agenda ahead of international humanitarian law. Just as France shields Morocco from accountability for its ongoing occupation and repression in Western Sahara and just as the United States shields Israel from having to live up to its obligations under international humanitarian law, Russia and China have used their permanent seats on the UN Security Council to protect the Syrian regime from accountability for its savage repression against its own citizens. Although the joint Russian and Chinese veto of the resolution is inexcusable, the self-righteous reaction by U.S. officials betrays hypocrisy on a grand scale and fails to take into account a series of policy blunders that have contributed to the tragic impasse.
Posted by Jacob Mundy on 23 December 2011
"Compared with the desperate efforts to give South Sudan independence, the French and the US are very comfortable [with the status quo in Western Sahara]," says Jacob Mundy, a Western Sahara expert and assistant professor at Colgate University in the US. He says that for there to be a solution, "there would have to be a significant change in the basic dynamics of the conflict… whether it was the collapse of the Moroccan regime, the collapse of the Algerian regime or the collapse of the Polisario".
Read the full article here: http://www.bbc.co.uk/news/world-africa-16186928
Posted by Jacob Mundy on 22 December 2011
Jacob Mundy responds to Hugh Roberts' essay "Who Said Gaddafi Had to Go?" in the London Review of Books.
Posted by Jacob Mundy on 10 December 2011
Western Sahara: War, Nationalism and Conflict Irresolution has been very positively reviewed in the flagship journal of the African Studies Association, African Studies Review. The reviewer, Gregory White, Professor of Government at Smith College, calls it "the definitive book on the Western Sahara."
Obama's claim that the United States "will not tolerate aggression across borders" continues to be somewhat selective given ongoing US support for the Moroccan occupation of Western Sahara and support for Israel's continued occupation of the Palestinian territories.
Read the rest at the Huffington Post
Posted by Jacob Mundy on 9 March 2011
Last week, the New York Times ran an article on Arab lobbying in Washington, DC. While the context of that article focused on the current uprisings in the Middle East and North Africa, the Western Sahara conflict received an indirect and odd mention. What was odd about the NYT article was the way it framed the motive for Morocco's efforts: 'Morocco spent more than $3 million on Washington lobbyists, much of it aimed at gaining an edge in its border dispute with Algeria, while Algeria countered by spending $600,000 itself.'
Posted by Jacob Mundy on 8 March 2011
Read the rest at the Sunlight Foundation: http://sunlightfoundation.com/blog/2011/02/01/the-arab-worlds-2010-lobbying-contacts/
Posted by Jacob Mundy on 30 January 2011
What had begun roughly a month earlier as a non-violent protest camp set up by Sahrawi youths to voice their feelings of economic marginalization under Moroccan occupation quickly transformed that day — November 8, 2010 — into the most violent 48 hours witnessed by Western Sahara since a UN ceasefire took hold in 1991. The protests in Laayoune were far larger and more destructive to property than the Sahrawi intifada of May 2005 or the events in 1999, when Moroccan police forcibly dismantled a similar Sahrawi economic protest camp in Laayoune. One of the many victims of the November 8 violence could be the hope that Sahrawi nationalists and the Moroccan government can share power under an autonomy scheme in Western Sahara.
Read the rest at Middle East Report: http://www.merip.org/mer/mer257/western-saharas-48-hours-rage
Posted by Stephen Zunes on 20 December 2010
Africa Today – December 20, 2010 at 7:00pm

Click to listen (or

download

)
Tags:
Posted by Stephen Zunes on 8 December 2010
Over the years, as part of my academic research, I have spent many hours at the National Archives poring over diplomatic cables of the kind recently released by WikiLeaks. The only difference is that rather than being released after a 30+ year waiting period — when the principals involved are presumably dead or in retirement and the countries in question have very different governments in power — the WikiLeaks are a lot more recent, more relevant and, in some cases, more embarrassing as a result.
Posted by Stephen Zunes on 17 November 2010
Sahrawis have engaged in protests, strikes, cultural celebrations, and other forms of civil resistance focused on such issues as educational policy, human rights, the release of political prisoners, and the right to self-determination. They have also raised the cost of occupation for the Moroccan government and increased the visibility of the Sahrawi cause.
Posted by Stephen Zunes on 15 November 2010
Tags: