Au grand dam des populations sahraouies représentées par le Front Polisario dès 1973, le Sahara occidental, ancienne colonie espagnole, est colonisé en 1975 par le Maroc. Hassan II y envoie, le 6 novembre, des Marocains pour l'envahir, avant de lancer une offensive armée contre les Sahraouis. L'attaque marocaine est même appuyée par des bombardements massifs. Le peuple sahraoui lutte depuis plus de 40 ans pour son droit à l'autodétermination. Dans les territoires sahraouis occupés par le Maroc, la vie des Sahraouis est marquée par la répression et le harcèlement constants. Le Sahara occidental est aujourd'hui la dernière colonie d'Afrique. Spécialiste des conflits au Maghreb, Jacob Mundy de l'université Colgate (New York) explique le stratagème mis en place par le roi Hassan II pour accaparer ce territoire.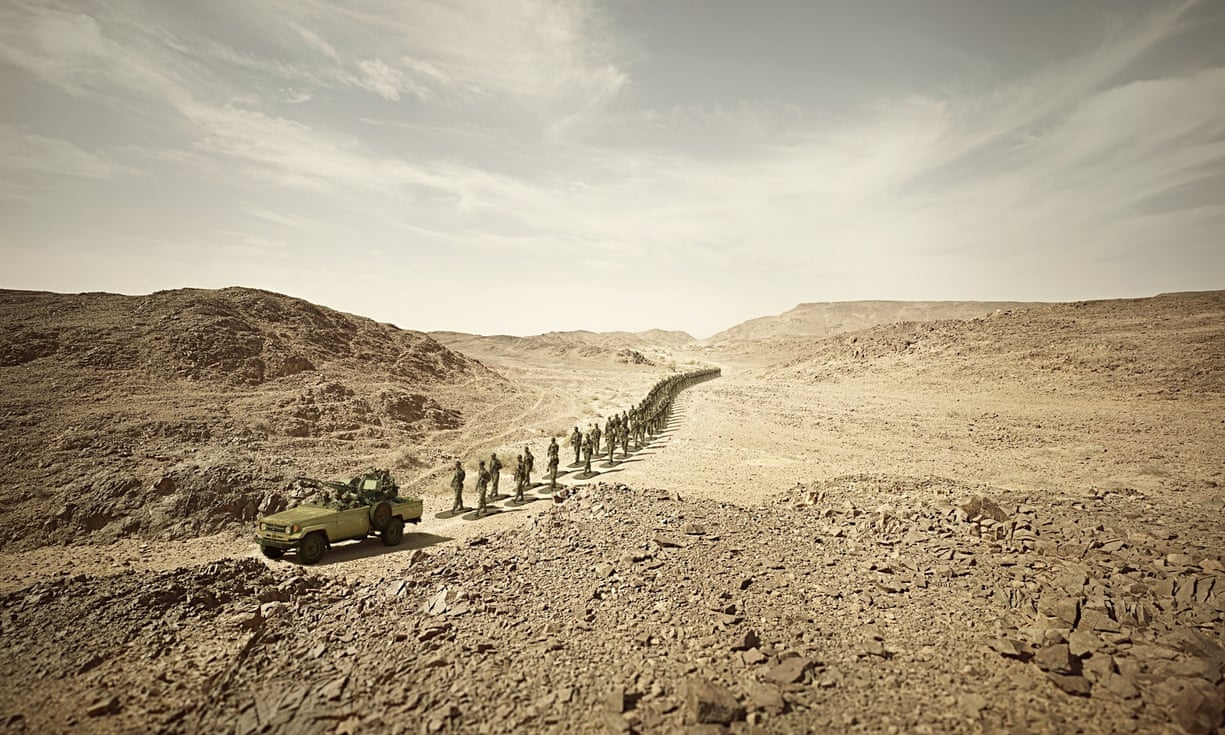 The result is a series of images that show the absurdity of war, but also the plight of the individual soldier locked into a conflict that must seem endless. "It is difficult to look at Simon Brann Thorpe's Toy Soldiers," writes Mundy, "and not dwell on the powerful metaphor these photographs literally play with. Fighters in the Western Saharan liberation movement have become playthings. But whose toys are they, and what is the game being played?" These are the kinds of questions that echo through this odd, and oddly powerful, conceptual meditation on war – and war photography.
Dudouet has found authors to write on eight prominent contemporary cases in which movements have switched from armed to nonviolent methods: Western Sahara, West Papua, Palestine, South Africa, Chiapas, Colombia, Egypt and Nepal. Few of these stories are known to the wider public. Perhaps only the struggles in Palestine and South Africa are familiar through the mass media, and even in these cases the transition from armed to nonviolent methods is little known. So here is a valuable compendium of insights about a crucially important process that has escaped the notice of scholars and members of the public alike.
The Ideal Refugees claims to make gender visible in the politics of Sahrawi refugee survival, but it does so at the expense of making the geopolitical conditions of the Sahrawis' dispossession, exile, and brute refugeeness invisible. In The Ideal Refugees, the invisibility of the larger forces acting upon the Sahrawi refugees is evidenced in the fact that France and the United States, the two states that have done the most to determine the lives of Sahrawis through their support of Morocco on the UN Security Council, are mentioned so rarely as to be omitted from the book's index. The connections between the conflict's "high" politics of international diplomacy and the "low" politics of refugee survival are plainly obvious to most dedicated observers of the conflict. But all we get in The Ideal Refugees is the low politics of camp life vis-à-vis the entrenched rule of Polisario and the naiveté of solidarity activists.
Beware academic volumes that bear this disclaimer: "The views expressed are those of the authors alone." Perspectives on Western Sahara, edited by Anouar Boukhars and Jacques Roussellier, contains several chapters in which this caveat is made. And for good reason: Perspectives on Western Sahara is primarily a political text, one backed by well-researched, if sometimes problematic, accounts of the conflict's local, regional, and global dynamics. Most of the contributors have backgrounds in government, consulting, and think tanks; the others have formal academic positions. Several are well known for their defense of Morocco's position on Western Sahara; others seem to have been recruited or shanghaied into the cause with little to no research or publication background on the issue. One of the chapters, an analysis of United States foreign policy towards the conflict, is even authored by two former US Foreign Service Officers who now work as lobbyists for Morocco, Edward Gabriel and Robert Holley. Boukhars and Roussellier's collection also serves as a pro-Moroccan response to Western Sahara: War, Nationalism, and Conflict Irresolution, which this reviewer coauthored with Stephen Zunes in 2010. …read more
Citation: Jacob Mundy, "Perspectives on Western Sahara: Myths, Nationalisms, and Geopolitics ed. by Anouar Boukhars and Jacques Roussellier (review)," The Middle East Journal, 68(4), Autumn 2014, pp. 653-654 | 10.1353/mej.2014.0094
Middle East Eye and Middle East Economic Survey have examined the coming oil crisis in Western Sahara.
The Western Sahara conflict is fast approaching its 40th anniversary with no end in sight. A web of geopolitical interests keeps the conflict in a permanent state of limbo. At the heart of this web is the U.N. Security Council, which has managed the conflict since the late 1980s. The council has been historically reticent to take dramatic action to resolve the dispute and remains so today. Though there has been "peace" in Western Sahara since 1991 when a cease-fire came into effect, all efforts to reconcile Morocco's claim of sovereignty against the local population's right to self-determination have failed. The status quo thus seems indefinitely sustainable. Unless the conflict takes a sudden turn for the worse, it is unlikely that the international community will make the tough choices necessary to achieve a lasting solution. Therein lies the paradox of the Western Sahara peace process: The peace process now exists to contain the conflict, but only a crisis will save Western Sahara.
A chapter by Stephen Zunes and Jacob Mundy from Civil Resistance and Conflict Transformation: Transitions from Armed to Nonviolent Struggle, edited by Véronique Dudouet. Routledge Studies in Peace and Conflict Resolution, 2014.
This book investigates the decision-making process, rationale and determining factors which underlie the strategic shifts of armed movements from violent to nonviolent resistance. The revival of global interest in the phenomenon of nonviolent struggle since the 2011 Arab Spring offers a welcome opportunity to revisit the potential of unarmed resistance as an alternative pathway out of armed conflicts, in cases where neither military (or counter-insurgency) nor negotiated solutions have succeeded. This volume brings together academics from various disciplinary traditions and offers a wide range of case studies – including South Africa, Palestine and Egypt – through which to view the changes from violence to nonviolence within self-determination, revolutionary or pro-democracy struggles. While current historiography focuses on armed conflicts and their termination through military means or negotiated settlements, this book is a first attempt to investigate the nature and the drivers of transitions from armed strategies to unarmed methods of contentious collective action on the part of non-state conflict actors. The text concentrates in particular on the internal and relational factors which underpin the decision-making process, from a change of leadership and a pragmatic re-evaluation of the goals and means of insurgency in the light of evolving inter-party power dynamics, to the search for new local or international allies and the cross-border emulation or diffusion of new repertoires of action. This book will be of interest to students of security studies, peace and conflict studies, political sociology and IR in general.
Hugh Roberts (2014). Review of 'Western Sahara: War, Nationalism and Conflict Irresolution' International Journal of Middle East Studies, 46, pp 418-420. doi:10.1017/S0020743814000324.